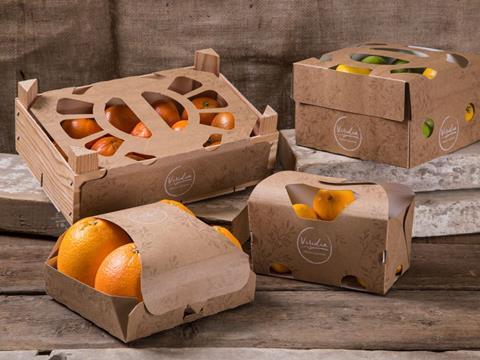 Leading folding carton packaging manufacturer Graphic Packaging International (GPI) will showcase its innovative FruitPack® range of sustainable fresh produce packaging solutions at this year's UK Produce Industry Fair.
GPI will demonstrate its expertise in renewable and efficient fresh produce packaging with its premium FruitPack range, which includes a variety of shelf-ready, mono-material solutions for preserving and protecting fresh produce. A sustainable alternative to plastic packaging, FruitPack addresses the emerging trend for multi-packed fruit and vegetables in a visually impactful carton which can be fully branded.
Rakhee Karia, GPI European Marketing Manager, said: "We're excited to show FruitPack to the UK Produce Industry Fair and are sure attendees will find it a unique, powerful asset for the whole produce industry.
"From the field, fruit and vegetables are protected and preserved by FruitPack's intelligent structure, and the lightweight, easily stackable design reduces the carbon footprint along the supply chain.
"Retailers benefit from the packaging's artisan look which helps to drive sales, while consumers enjoy its convenience and eco-friendly credentials with easy-carry handles and recyclable materials. It's a win-win solution for the packaging of fresh produce in today's competitive retail landscape."
Held at the Peterborough Arena, the event exhibits the best food, machinery, equipment, products and services that the UK fresh produce industry has to offer. Focusing on efficiency, added value and cost savings, the fair will include stands, workshops and presentations. It is expected to attract 7,000 visitors with more than 140 stands, and is followed by a gala dinner on September 14.
GPI will be located at stands 134 and 135 during the event, held on September 13 and 14th, 2017, where delegates can discover FruitPack® for themselves and discuss their packaging needs with the team.