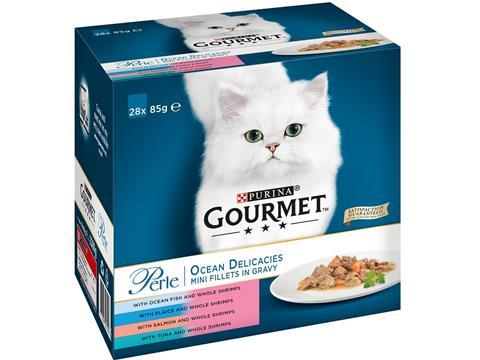 In October 2017, GOURMET™ - the culinary-inspired cat food and pioneers of the Cat Soup category – unveils its new packaging design to enhance brand premiumisation, having reached a significant milestone in delivering 15% market share.
Establishing strong growth at 13.4% MAT and record-high sales of its Soup and Perle sub-ranges, GOURMET™ continues to entice shoppers into the luxury cat food category through its successful 'trade-up' model – figures reveal an increased focus on premiumisation, with the luxury pet food sector currently growing by 11.4%. New masterbrand packaging and an engaging media campaign has been introduced to build on this success, while staying ahead of consumers' expectations as category leader.
Encompassing a new brand logo, appealing food visuals and text positioning, the new, eye-catching packaging design aims to further differentiate between sub-ranges and flavours, as well as increasing premiumisation and stand-out key brand elements. Research shows an increased purchase intent of 97%, thanks to improved visibility, appeal and perception.
What's more, GOURMET™ has invested in cinema advertising for the first time; a 20-second TVC featuring its connoisseur cat who communicates its Soups innovation is due to run from October to December 2017. GOURMET™ Soup was voted the Product of the Year in the Wet Cat Food Category 2017 and communication will proudly feature on Soup multi-packs.
Agathe Robert, Nestlé Purina GOURMET™ Senior Brand Manager, comments: "As the popularity of the luxury pet care category continues to increase, we're proud to see GOURMET™ at the forefront of activity. The GOURMET™ brand re-fresh is just the start of exciting new chapter, as the brand continues to grow and develop."