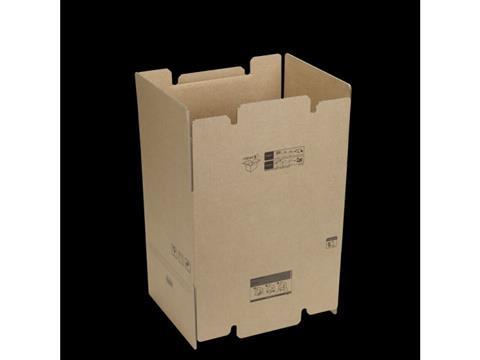 During the next edition of Hispack fair 2018, that will take place in Barcelona from the 8th to the 11th of May, Capsa will introduce its latest innovations in packaging, as well as its novelties for ecommerce.
The company will release an innovative patented solution that reinvents the basic cardboard box B1, also known as 'American box'.2in1® Duo, a resistant, functional and sustainable solution promises to revolutionize the way in which items are packed thanks to its reinforced structure design.
Nowadays, packages may suffer impacts, damaging the content of our shipments in logistic transit so usual as the package shipping. With 2in1® Duo, this risk is minimized; since this new solution is significantly more resistant than conventional boxes, according to a comparative study done by the Packaging, Transport and Logistics Research Center (ITENE), which confirm these results after submitting the two alternatives to different trial test like the protocol test ISTA 3A.
Thanks to its multifunction closing system 2in1®, the box optimizes and flexibilizes the logistic, both in preparation order process as in the shipments. The system of double option of closing 2in1® adds functionality to the packaging and converts the cardboard boxes in an efficient and ecological solution.
Additionally, Capsa will show its novelties for ecommerce: the 2in1® e-Plus y 2in1® eZ-Plus, for more efficient, functional and sustainable ecommerce.
These patented solutions for ecommerce with the Plus system of automatic assembly in less than one second, save costs, reducee the use of adhesive tape and ensure the content better thanks to its double reinforced fund and easy fold for a upcoming reuse.
Its adhesive tape allows practical closing, saving time and additional adhesive tape. The version 2in1® eZ-Plus counts with a double adhesive tape allowing to make a safe and comfortable devolution in the on-line purchases. Both versions count with an easy-open strip.
More info: