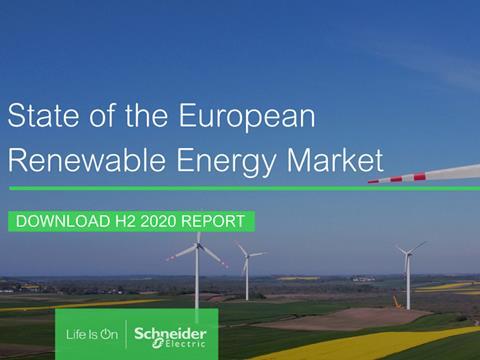 Our next Innovation Spotlight for this month comes from Schneider Electric, which introduces the latest edition of its intelligence report into the European renewable energy market.
The European renewable energy landscape presents a range of opportunities for corporate buyers to procure renewables and meet their sustainability targets. In July of 2020, Ball Corporation, a world-leader in the packaging sector, signed two virtual power purchase agreements (PPAs) in Europe -- enough to address approximately 63% of its European electricity load utilized in its aluminum beverage packaging plants (excluding Russia) with renewable energy.
PPAs enable corporates to procure wind and solar at scale and accelerate progress towards their sustainability targets. Depending on an organization's unique profile (including size, electricity load and geographical footprint), there are a range of opportunities to explore.
Schneider Electric Energy & Sustainability Services (ESS) releases a bi-annual market intelligence report with first-hand insights and key trends to help corporate buyers navigate the dynamic renewables landscape: State of the European Renewable Energy Market.
The H2 2020 YTD data set, which informs this report, considers corporate request for proposal (RFP) and request for information (RFI) responses that have been gathered between July and November. It represents over 750 renewable energy offers in Europe, submitted from more than 50 solution providers across 12 countries, resulting in a strong overview of the European renewable energy market for corporate buyers.
In the report, you will be able to explore the latest European cleantech trends around:
Indicative Pricing
Renewable Energy Technologies
In-country Market Opportunities
PPA Deal Sizes & Price Structures
Ball Corporation Case Study
Guarantees of Origin (GOs) Pricing
Schneider Electric Energy & Sustainability Services (ESS) helps clients reach their energy and sustainability goals through a range of services and solutions. As an unbiased, independent consultant, it works with clients in over 100 countries, from regional companies to the world's largest corporations.
To date, the Schneider Electric ESS cleantech team has advised on over 8,000 MW of wind and solar power, making it the leading corporate renewable energy advisor globally. With experts on the ground in key markets worldwide, the ESS cleantech team continues to help companies identify optimal solutions to meet their renewable electricity goals in Europe.
This content was sponsored by Schneider Electric.