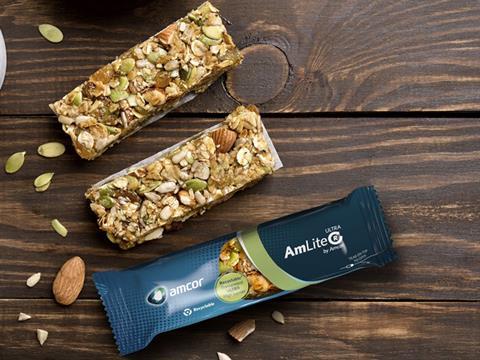 Amcor is today launching AmLite Ultra Recyclable, which is recyclable in existing polyolefin recycling streams – its first packaging product based on the breakthrough, high-barrier OPP platform revealed in October 2018. Thanks to high barrier properties for oxygen (less than 0.1 cc / m2 / day) and moisture (less than 0.1 g / m2), the new laminate is suitable for ambient products with demanding barrier requirements, such as coffee and personal care sachets.
A brief history lesson: 'AmLite' was created by Amcor in 2015 to eliminate metal layers from laminates in order to significantly reduce the carbon footprint of packaging. As the name hints, the new 'AmLite Recyclable' generation adds recyclability to its properties. It achieves this by getting rid of the PET layer that had replaced the aluminium in the original AmLite. This fully polyolefin film replicates the barrier properties thanks to SiOx (silicon oxide) coating.
The new product's recyclability has been demonstrated in practice, according to Amcor. "In the first place, AmLite Ultra Recyclable underwent independent testing and certification by the cyclos-HTP Institute," Luca Zerbini, Vice President of Marketing, Innovation, and Sustainability, told Packaging Europe. "However, we have also been reaching out to mechanical recycling companies to conduct tests to validate that recycling is successful in real conditions."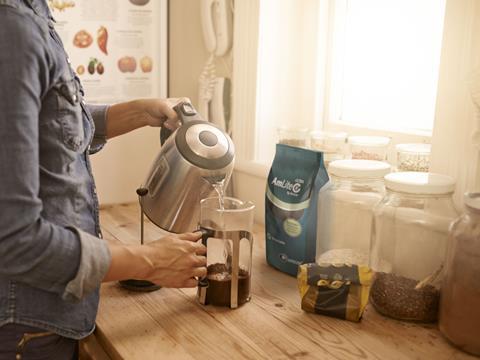 Were these tests looking at how the SiOx coating impacted on the purity of recyclate? "No trace of SiOx was found and there's no concern about this polluting PCR – after all, the coating is a mere 40 nanometres and it's chemically neutral, essentially a miniscule quantity of glass dust," said Andrea Della Torre (senior R&D director, EMEA). "Rather, the focus of the testing was on ensuring that adhesives and inks did not compromise recyclability."
An added sustainability bonus is that the recyclability of the new film contributes a further, modest decrease in carbon footprint on top of the larger reduction achieved by the original AmLite. As a result, AmLite Ultra Recyclable is associated with a carbon footprint of up to 64% lower, in cradle to grave comparisons, than its metallised predecessor.
Building blocks
The pathway to today's announcement can be traced back to Amcor's strategic pivot to recyclability a few years back, which crystallised in the headline pledge that all of its packaging will be recyclable or reusable by 2025. The pathway is also paved with several years of dedicated R&D.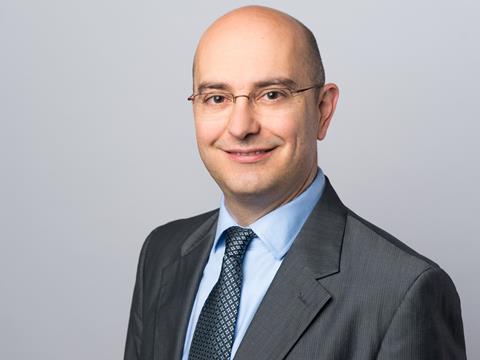 "In fulfilling the pledge our strategy, rather than devising individual solutions one by one, has been to create building blocks that can be used to convert entire product platforms globally," revealed Luca Zerbini. "Derived from this approach, we also have a recyclable, polyolefin film for retort applications in the pipeline. High barrier films for long shelf-life represent an even bigger challenge. It will require investment to achieve our goals." A prime example of Amcor's commitment to such investment is its Sustainability Centre of Excellence in Ghent, Belgium, opened in the last quarter of 2018. This facility will drive ongoing R&D around recyclability to serve all of company's global business units.
AmLite can be used for a variety of formats, including pillow pouches, stand-up and spouted pouches, bags, lidding, and stick packs. AmLite Standard Recyclable, which provides medium- to high-barrier protection for ambient applications, is already on supermarket shelves thanks to some early adopter brands. From today AmLite Ultra Recyclable is available for broader customer trials. The new film will enable Amcor's customers to move to recyclable flexible packaging, using existing lines, across coffee, snacks, dry pet food, baby nutrition, pharmaceutical, home and personal care applications.