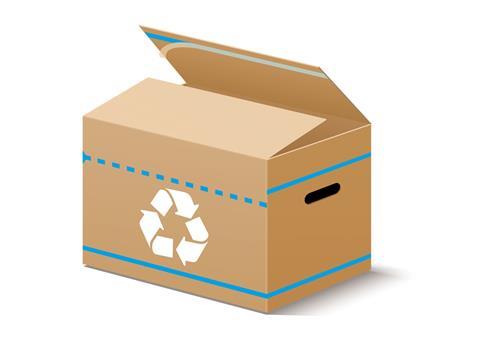 Lemtapes Oy has received a sustainability award for its PureTape cellulose-based tape for corrugated boxes to replace PET-based fibres.
The award was presented at the FEFCO Technical Seminar in Geneva, Switzerland, from 9-11 October 2019. According to the Lemtapes, its aim was to use its core, fibre-based tape technology but make it more sustainable. "The core fibres are made from natural raw material, cellulose," says managing director Sami Liponkoski. "At the moment we have reached a level of 50% biobased glue, but we are aiming for 100%."
Lemtapes believes there are many sustainability benefits to replacing PET with cellulose as a base material for tapes. "The main industry application for the product is corrugated beverage packaging, and frozen fish and meat packaging. Here the tape is used to reinforce the whole package and thus makes lightweighting of the box possible; as we showed at FEFCO 2017, this can be up to 23% of the total box weight."
Furthermore, according to Mr Liponkoski, the Puretape can be placed in existing recycling systems, however, "Current systems do not unfortunately separate plastic and organic fibres. Hopefully in the future we can have a system that allows 100% of the external fibres to also be recycled."
Of course, there are always challenges to be faced when it comes to such innovation in material usage. "As material the cellulose fibres are thicker than PET and we had to innovate on how to apply them. Now the first tests show that in the final package the tape behaviour is the same as with PET-based tapes and we can claim to have succeeded in this."
The ongoing backlash against plastics has certainly provided fuel for discussion of alternative materials, and opened the way for products such as PureTape to take their place on the market. That being said, Mr Liponkoski acknowledges there are still applications where plastics are the most logical choice – in particular for food preservation purposes.
With plastics, he says, "our biggest concern is recycling. If there were a system for equal recycling of plastics as there is for paper-based materials, then plastics would not be so harmful for the environment. As long as such systems do not exist, we aim to develop tapes that can be better recycled."
Another such example from Lemtapes is ECOtape, which is made from recycled polyester. "This also reduces the carbon footprint compared with existing tape solutions, since it is produced from recycled and not virgin PET.
He concludes: "In theory we should be able to make a cotton- or hemp-based tape as well. We see far more possibilities for fibre-based technology compared with film-based tapes."
For more information, visit: https://www.lemtapes.fi/sample/