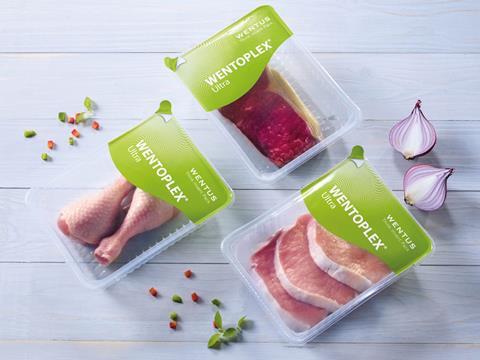 Wentus Kunststoff GmbH has revealed a new film solution that it says can reduce material usage by up to 35%.
Wentus claims that its new product guarantees protection and long-lasting freshness thanks to an "excellent" oxygen barrier. It is, the company says, therefore suitable for a wide range of products - from red meat to vegan produce. In addition, the film reportedly boasts strong antifog properties.
Wentoplex Ultra is made entirely from polyolefins that, Wentus argues, enable better recycling than composite materials using PET or polyamide. The company also says that material use can be reduced by up to 35% compared to heavier conventional structure, conserving resources, and reducing waste.
The new product can be used in the tray-sealing process as it reportedly seals to all common materials and apparently delivers "high seal integrity". Alternatively, the film can also be used to produce HFFS (and VFFS) flow-wrap packs, such as minced meat packs.