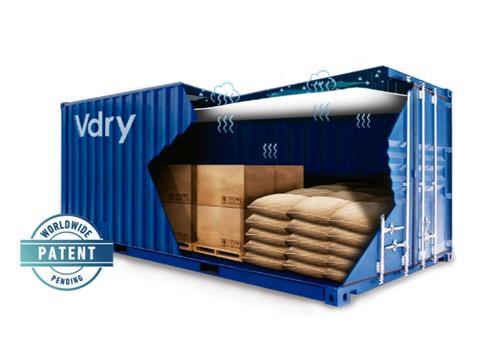 EPG Industries has announced that it has a worldwide patent pending for the latest enhancements applied to its Vdry Blanket, which are hoped to minimise its environmental impact and enable better protection for high-risk cargo.
The Vdry Blanket is an absorbent blanket designed to protect products from condensation on a container ceiling during transportation. Made of microporous materials to enable the flow of humid air, it hangs above the cargo with a simple hook system.
Its new patented design includes a double membrane on the lower layer of the blanket designed for absorption of excess condensation in high-risk shipments, such as long transit times or journeys with drastic temperature fluctuations.
According to EPG Industries, the blanket's reported 250-litre absorption capacity is greater than its current market competitors, which is intended to minimise the risk of moisture damage to cargo.
Although it was originally designed in a standard green colour, the Vdry Blanket is now available in white only, with the removal of its coloured dyes hoped to reduce its impact on the environment.
Since its launch, the Vdry Blanket has been used across industries such as agriculture, electronics, metals and pharmaceuticals. The latest modifications are now awaiting approval for a worldwide patent.
EPG Industries' Temcoat Liner Flow was unveiled last year, also featuring a breathable membrane to prevent losing cargo to condensation damage. It was hoped that the solution could be applied to such products as perishables, pharmaceuticals, powdered dairy, and, specifically, coffee.
Smaller-scale solutions to condensation damage in transit include Cortec Advanced Films' recyclable self-seal bubble bag made using vapour corrosion inhibitor film and bag technology, hoping to prevent the corrosion of electronic products; and the SAVRpak Drop-In, a thermodynamic, biodegradable, chemical-free pouch set to purify the atmosphere inside the packaging – protecting against internal excess in moisture and condensation, but also external contaminants such as bacteria.