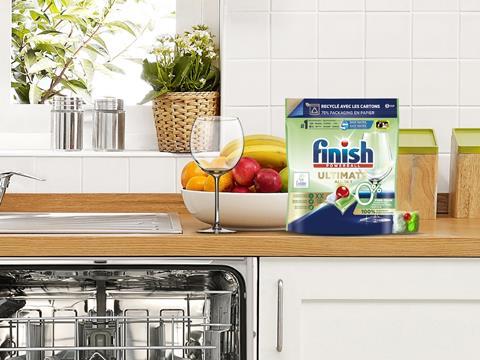 A partnership between Reckitt and Mondi has resulted in the launch of paper-based packaging for the dishwasher detergent brand Finish, which intends to reduce over 2,000 tonnes of plastic per year – the equivalent of 50 million 1-litre bottles.
The new Finish stand-up pouch features 75% paper, said to be responsibly sourced. The remaining plastic is reported to strengthen the structure of the paper, as well as providing durability, water resistance, and a re-closable seal – features that have not yet been achieved in 100% paper packaging.
Since it contains a reduced amount of plastic, the packaging is said to be more recyclable, and is expected to generate 15% less CO2 throughout its life cycle than its previous designs when the rollout is complete.
Apparently, the new design will make its debut at the French retailer Carrefour in mid-November. There the packaging's success will be monitored, with any necessary adjustments being made as the design rolls out in other countries in the following years.
"Removing plastic from our products is a priority across all Reckitt brands," said Angela Naef, chief research and development officer at Reckitt. "We are always looking at new and innovative ways to improve sustainability in our products and we are committed to pioneering further packaging innovation.
"One of Reckitt's sustainability ambitions is to reduce virgin plastic in our packaging by half by 2030. It's an ambitious challenge, but we are confident with the progress we are making."
Gonzalo Balcazar, global category vice president at Finish, added: "This latest design represents our commitment to build better future solutions, not just for cleaner dishes but for a cleaner, more sustainable world. The paper-based solution ensures that Finish customers can enjoy the same product they know and love, with the added benefit of doing something for the environment."
"With Reckitt, we were able to develop a paper-based packaging solution that reduces plastic usage while still providing the necessary product protection," said Olivier Seux, head of Global Key Accounts at Mondi. "This project is a great example of Mondi's belief in using paper where possible, plastic when useful. The packaging has been designed with sustainability in mind to minimise the impact on the environment.
"We look forward to working with Reckitt to continue to test and develop solutions that help them achieve their sustainability goals."
Greiner Packaging previously incorporated 50% post-consumer recycled PP into a cardboard-plastic hybrid solution for Henkel's Somat Excellence 4in1 dishwasher capsules.
Another collaboration between Reckitt and Mondi resulted in a mono-material, recyclable flexible plastic packaging portfolio for the Finish Quantum Ultimate dishwasher tablet line.