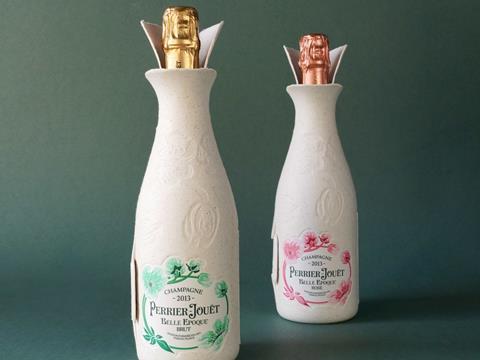 Maison Perrier-Jouët has partnered with Colourform by James Cropper to produce a luxury gift wrap made of paper pulp and vine shoots with the intention of bringing sustainability to the luxury market.
The Belle Epoque Cocoon is set to be applied to the Perrier-Jouët Belle Epoque and Perrier-Jouët Belle Epoque Rosé vintage cuvees with an initial launch in the US, France, and Italy. The paper pulp used to produce the pack is said to be FSC-certified and sourced in sustainably managed forests and vine shoots in France.
Meanwhile, the vine shoots themselves give the pack a 'speckled' finish and are reportedly collected after pruning at the end of winter, apparently ensuring that the packaging is both renewable and recyclable in existing paper streams.
To emphasise the shape of the product, the pack is designed to envelop the bottle and open at the top in a 'petal-like collar'. It features an Art Nouveau-inspired sculpted floral decoration for a premium aesthetic, alongside a debossed logo and a paper label.
Reported to weigh 49 grams, the gift box is apparently 93% lighter than its predecessor and does not require varnish or glue to hold itself in place. Instead, it is fastened with a double-locking clasp mechanism, which closes with an audible click for an enhanced audible and tactile consumer experience.
The pack – manufactured using James Cropper's Colourform production, which is said to utilise 100% renewable solar and hydro energy – is also capable of laying flat for storage purposes.
Richard Dancy, brand manager of Colourform, describes the pack as "a beautiful and sustainable solution that delivers the essence of the Belle Epoque brand through this luxury packaging. The high attention to detail behind this unique box design has been born from Maison Perrier-Jouët's close relationship with nature and love of art and natural materials.
"The wash cut crafted finish is both simple and elegant, and offers up a fine example of circularity and recyclability, adding to the other initiatives that the house of Perrier-Jouët has pioneered. By reducing the impact on the environment as much as possible with Belle Epoque Cocoon, Maison Perrier-Jouët is giving meaning to all moments of celebration and has reinvented the codes of luxury."
Audrey Guerin, packaging development manager at Perrier-Jouët, adds: "Maison Perrier-Jouët has always been guided by a love of nature. The new sustainable wrap reflects the evolution of this passion, with the house taking sincere, ethical and lasting action to reduce its impact on nature and sustain the environment.
"The ultra-light creation represents a huge moment for the brand since it marks the goal we set out to achieve of having our entire gift offer eco-designed by 2023. We're delighted to mark the achievement with such a beautiful design that seamlessly showcases how beauty and sustainability can work together, in the luxury market."
Other explorations into decorative wine packaging have included Gentlebrand's special-edition Curtai range with on-pack illustrations inspired by "The Divine Comedy" to celebrate the 700th anniversary of Dante Alighieri's death; and Companhia das Lezírias's pinewood box that can be repurposed into a nesting box for birds.
Meanwhile, manufacturers have been redesigning the wine bottle itself in pursuit of sustainability. Packamama collaborated with winemakers Accolade Wines and Taylors Wines on the Australian market launch of 'flat' wine bottles made from 100% recycled and recyclable PET; and Berlin Packaging's 'carbon neutral' Aurelia bottle was a finalist in the 2022 Sustainability Awards.